downtown abbey christmas special; downtown abbey; suffolk; men don't like downtown abbey;
This year we were really lucky to spend this Christmas up in Suffolk with family. There was overeating, Christmas songs and log fires and I cannot tell you how lovely it was. The little one especially enjoyed hanging out with his cousins, the fact they are in their early twenties and he is just six didn't seem to put him off at all as far as I know they didn't feed him beer so all is good.
Time with loved ones, rubbish internet connection, power cuts, a turkey we had named Sebastian and a very heated game of 'Animation' made a very merry Christmas.
As is custom on Christmas day we all watched a movie together, people were everywhere, on sofas, beanbags and on the floor. After the film Granny wanted to watch Downton Abbey, me and my Aunt stocked up on mince pies and tea, and by the time we came back to the TV room, all the boys, whose ages ranged from 6 to 55, had gone.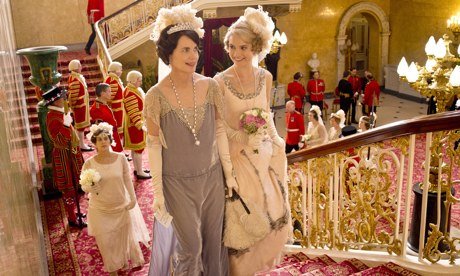 I had never noticed before, I usually watch TV at home, and not often with 10 people, but is it really true that men don't like Downton Abbey? Even the little one legged it! He loves watching Antiques Roadshow with me, but when as soon as the words Downton Abbey came up on the screen he and his Darth Vader fled. I know lots of viewers didn't enjoy the cosy drama, but were the 6.8 million viewers all women? And if they were, doesn't this tell us that we need more TV with female leads. Maybe we watch Downtown because of the female representation and we just like seeing clothed women on our TV screens. Its a simple theory but one that has intrigued me.